Cedar Tree Village
2021 Committee Members
Our Board Members are unpaid volunteers; therefore please be considerate of their time and schedules.
Questions or problems should be directed to the appropriate committee person below,
by letter or by email:
Cedar Tree Village Homeowners Association
Post Office Box 1438
Bettendorf, Iowa 52722
Please include your daytime and evening phone number with all communications and fully describe the nature of your problem.
For EMERGENCY SITUATIONS ONLY - UP TO 8:00 P.M.
You may contact Jody Mapes, Board President, directly at 563-332-6023.
Please be considerate and call only when necessary, and between the hours of 9:00 a.m. to 8:00 p.m.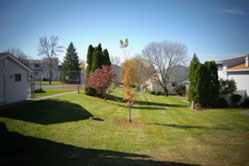 Welcome to the 2021 Cedar Tree Village Homeowners Association Web Site.